Video Surgeon
4620 Derby Lane, Doylestown, PA 18902
Tel: 866-423-0413, 215-371-3909 (F)
www.videosurgeon.net
Weekly Highlights
February has been a bit of a slow month for Video Surgeon.  There has not been a lot going on.  There have been no major problems or bug fixes to report.   We are running a couple of surveys for which I hope you can spare a minute.  One is on features for Version, and the other is about a potential new product for Karaoke users. 

Weekly Video Surgeon Tip – Video Playing Upside Down in VS
If you're a Windows user, you've may encounter an iPhone video that seems to be upside down when you save it to your computer or play them in Video Surgeon. Why does this happen? Simply put, it is because you can rotate your iPhone. Your camera sensor doesn't know when you have done this, it  simply records the video or  image and save it to a file, letting the software on your phone do the rest.To make sure that your photos are displayed correctly, your iPhone adds information about the correct rotation of the photo or video to the properties which are specified in EXIF tags.
Your iPhone doesn't convert any videos to the correct orientation because that would keep it busy for a few seconds. Instead it simply saves all videos as they were recorded and adds information about their correct orientation to EXIF tags. This means that your iPhone is ready to shoot another video or photo within a fraction of a second, which is just awesome. The only problem is that some software developers, including Microsoft, ignore the information that's stored in EXIF tags.
Here is a link that shows you how to fix this problem, if it occurs: https://www.youtube.com/watch?v=irKwJoX2_f0


---
Your Help Needed! Suggestions for new version of Video Surgeon

We are more than a year away from a new version, however, it is time to begin thinking about possible new features.   We rely heavily upon the input of our customers when we develop new versions, so please take a couple of minutes and complete this survey.   Thank you in advance for you input.

http://www.esurveyspro.com/Survey.aspx?id=69d8def4-82ed-44c0-bc73-ddfa2226331c
---

Download Surgeon – Tri-module A/V Downloader is NOW Available

I have mentioned Download Surgeon over the past several months in this newsletter.  It is NOW available.  DS is an tri-module A/V Downloader.This product is similar to the download module found in Video Surgeon 2, though with some changes and improvements.  If you own Version 2, you will need determine whether the modest enhancements found in this product are worth the extra dollars. That is a decision for you to make, not us.
However, if you have a the older version of Video Surgeon or have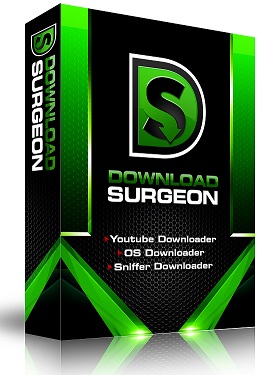 been a demo user – and you are looking for a way to download audio and/or video from YouTube, Face Book, Tumblr, Sound Cloud, Reverbnation, and thousands of other sites, then I encourage you to give this a look.  
During this launch period, we are offering a 50% discount off the normal price of $39.95. That means you can grab Download Surgeon right now for $19.95.  Here is the link to the ordering page:
http://downloadsurgeon.com/shopping/
One other difference is that a purchase entitles you to install on only one machine, not three as we do with Song Surgeon. Download Surgeon runs on both Windows and Mac (OSx) machines.
Download Surgeon comes with one full year of support – and like all of our products is backed by our no-hassles guarantee policy.   If for any reason during the first 90 days you are not satisfied, contact us and we'll refund 100% of your purchase, no questions asked. 
---

Karaoke Enthusiasts

I know we have many Karaoke users among Video Surgeon.  If you are one, I'd like to ask a favor. We are exploring the possibility of creating a product solely for Karaoke singers.  Please take a minute and respond to our survey on this potential product to help us better understand your needs and what features you would want in such a product.
http://www.esurveyspro.com/Survey.aspx?id=f93b05f5-03a6-448b-806e-050d5603b79e

Until Next Week,

James Todd
Video Surgeon
p.s.  As we customarily do in this postscript section of the letter, here is a
recent email we received from a VS user.
Thank you Jim. It really means a lot that your "service level" is so superb. One of the best in the World.
Best Regards
Lars
Stockholm Sweden